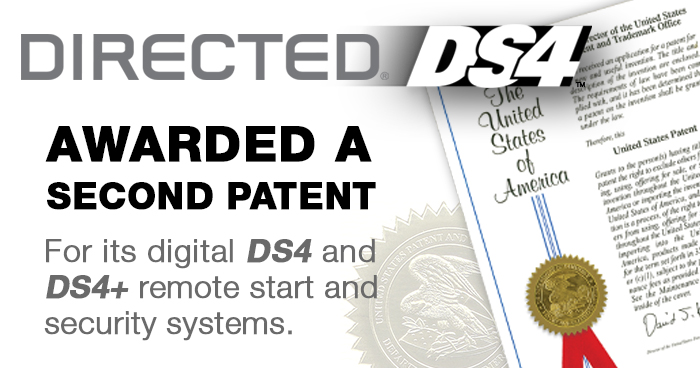 Directed Annouces Awarded Second Patent for Digital DS4 and DS4+ Remote Start/Security Systems
~ Directed Awarded Second Patent ~
VISTA, Calif. (May 12, 2020) – Directed announced today it has been awarded a second patent for its digital DS4 and DS4+ remote start/security systems.
The patent covers DS4's ability to pair, over Bluetooth, with many under-the-hood peripherals such as a siren, hood pin, tach monitor, sensor and others.
Through this wireless pairing, installation is greatly sped up and simplified as technicians no longer need to pull wires through vehicle firewalls.
The new US Patent No. 10,589,715 is called "Vehicle Control System with Wirelessly-Coupled Underhood Components."
James Turner, SVP & General Manager of Remote Start and Security said, "It protects our unique DS4 technology and covers one of the biggest advantages of this breakthrough technology – wireless pairing…"
He added that the compatible "wireless peripherals include our wireless siren (DS4WS) and a wireless sensor that is coming this fall. The wireless technology removes the need to run wires thought the firewall for the siren, tachometer signal, hood-pin, etc… and transmits these signals to the DS4 wirelessly. Ultimately this reduces the installation time and removes the risk of damaging the vehicle when running routing wires through the firewall."
The
first patent for the DS4 system
was awarded over a year ago and covered its ability to wirelessly connect with smartphones and tablets.
About Directed
Directed is a world leader in automotive electronics, the largest North American designer and marketer of consumer-branded vehicle security and remote start systems, and a pioneer in the connected car space. Its products connect more consumers to their vehicles than anyone else on the planet. Directed markets its broad portfolio (sold under Viper®, Clifford®, Python®, Autostart®, AstroStart®, Alcohol Detection Systems® and other brands) through leading national retailers and specialty chains.