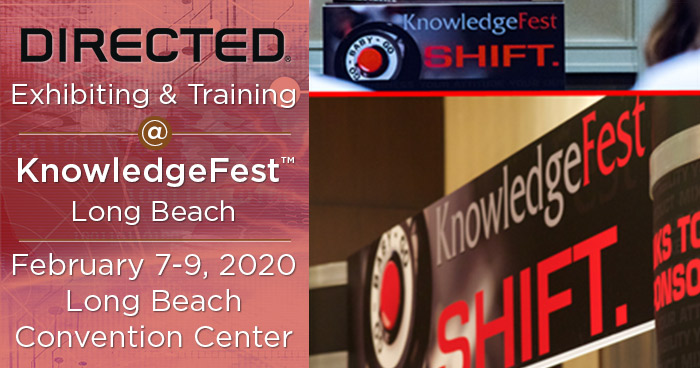 Directed Exhibiting and Training at KnowledgeFest Long Beach
~ Directed Offers Technical and Sales Training to Educate KnowledgeFest Attendees ~
VISTA, Calif. (February 07, 2020) – Directed announced today its training schedule for KnowledgeFest Long Beach, continuing its relationship with the Mobile Electronics Association (MEA) and the KnowledgeFest series of shows.
"Exhibiting at KnowledgeFest and continuing our partnership with MEA are fantastic ways to showcase Directed's industry leadership in innovation and support," said Directed CEO Bob Struble. "We had a great time last year in Long Beach, Indy and Dallas and look forward to sharing our latest and greatest this week in Long Beach."
Directed will be at the Long Beach Convention Center from the 7th through the 9th. Attendees can experience Directed's latest products in Booth# 1010, where they'll see the latest in the DS4 ecosystem including new sensors and security innovations; Viper SmartView, Directed's clever entry into the growing dash camera market and SmartKey, a game-changing way for people to access and control their vehicles. They can also learn about the revenue opportunities available from Directed's Ignition Interlock business, Alcohol Detection Systems.
Outside the Convention Center Directed will feature its VW SmartKey demonstration vehicle. Attendees will be able to access, start and control the vehicle with their smartphone using only a text message. As an added bonus, VW SmartKey attendees will get a chance to spin-to-win to win great prizes.
Directed will feature four technical trainings and two sales trainings at KnowledgeFest Long Beach. During technical trainings, Directed Product Specialist Representatives will coach up attendees on the latest technical updates in Directed's evolving product line. During sales trainings, Directed Regional Sales Director Tim Page will show attendees how to maximize their profits selling Directed products. Show attendees can choose from six different timeslots, so there's no reason not to attend at least one. Additionally, Directed will give away SmartStart Pros and Bluetooth speakers during trainings.
Technical and sales training sessions for KnowledgeFest Long Beach are scheduled as follows:
Friday, February 7 from 12:30pm-1:30pm in Room Seaside 3B – Technical Training
Friday, February 7 from 1:45pm-2:45pm in Room Seaside 3B – Technical Training
Friday, February 7 from 3:00pm-4:00pm in Room Seaside 3B – Sales Training
Saturday, February 8 from 6:00pm-7:00pm in Room Seaside 3B – Technical Training
Sunday, February 9 from 9:30am-10:30am in Room Seaside 4A – Sales Training
Sunday, February 9 from 10:15am-11:15am in Room Seaside 4A – Technical Training
Not a Directed Dealer? Please visit
http://www.directed.com/contact/becomedealer
or call 1-800-876-0800 to become a directed Dealer today!
About Directed
Directed is a world leader in automotive electronics, the largest North American designer and marketer of consumer-branded vehicle security and remote start systems, and a pioneer in the connected car space. Its products connect more consumers to their vehicles than anyone else on the planet. Directed markets its broad portfolio (sold under Viper®, Clifford®, Python®, Autostart®, AstroStart®, Alcohol Detection Systems® and other brands) through leading national retailers and specialty chains. For more information, contact Chris.Pearson@directed.com.